Learn About Tipi Designs and More
Read tipi news about Salcedo Custom Ti Pi (Tee Pee) in Coulterville, CA, and stay updated about the
latest tipi designs
and styles available. We have compiled some articles for your review. If you have any questions about our business, drop us a line. We will get back to you as soon as we can.
Alcatraz photo with watchtower. July 2001
The Annual Sunrise Celebration at Alcatraz Prison This is one of our custom Ti Pi s in the shadow of a watchtower at the infamous Alcatraz prison.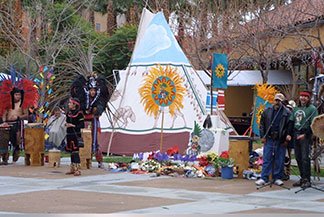 Mexicia new years celecbratiohn ceremony –sun tepee
Mexicia The annual New Years celebration ceremony with our featured Sun Tii -Pii
This is one of our custom Ti Pis at the Neil Young and Peggy Young Bridge School Benefit Concert.
Salcedo Custom Ti Pi(Tee Pee) has proudly donated a tee pee to this event for the past 20 years.
Inquire About Our Custom Tipis
Thank you for taking the time to visit our website. Should you have any questions about the custom tipis we offer, get in touch with us. Jesse is here to assist you with your needs. You may call or email us using the featured contact information. We hope to hear from you soon!
We are still in the process of compiling the latest tipi news. For now, please take the time to view the rest of our website to learn more about our business. Check back again soon for new content.